Welcome to Our Ford Service Department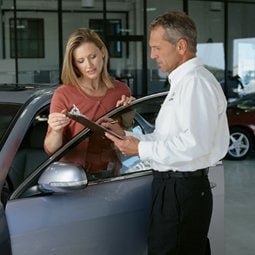 Maintaining Your Vehicle at Our Ford Service Center
The best way to ensure that your vehicle stays in top operating condition is by having it regularly serviced with us at Park City Ford Inc. From routine maintenance issues to repairs and part replacement, as a driver in Norwalk, CT, you can feel confident that we will keep your vehicle in good working order.
Maintenance Schedule
Your maintenance schedule will vary based on the year and model of your vehicle along with other factors, such as the conditions under which you normally drive in Stamford, CT. You can consult your manual, check out the official Ford site online or just talk to us about when to bring in your vehicle to us to make sure that you get all inspections done on time.
Among the items that may be checked as part of routine maintenance are your tires, your brake parts, your cooling system, your engine oil and various filters and fluids. If your message center indicates that a system needs attention, you should also bring your vehicle in even if it is does not fall within the scheduled maintenance period.
This may also include seasonal maintenance like getting winter tires. Regular maintenance will also maximize the efficiency of your vehicle's operation throughout Milford, CT. 
Other Service Issues
Familiarity with how your car sounds and feels will make it easy for you to identify anything unusual that could mean something is not working as it should. Even if you have just had regular maintenance done on your vehicle, if it is making a new noise, emitting new smells or operating in a way that is not normal when you are driving it in Danbury, CT, you should get it checked out.
Our diagnostic services can help ensure that your vehicle remains safe to drive and in good working order. For optimal performance wherever you go in Bridgeport, CT, take advantage of the knowledge and expertise of our service center.